Production
Machine pool is equipped with more than 200 units of modern metal-working equipment for the production of machines, mechanisms and equipment in various industries. The basis of the company production capacity is a section of high-precision coordinate boring machines with NC company «TOS VARNSDORF» with the possibility of installation of products weighing up to 100 tons and concurrent processing with a single installation of the length up to 17000 mm. Processing accuracy of planes and holes is up to 0,005 mm.
---
---
Gear production machinery allows to cut gear wheels up to 32 module, with diameter up to 3200 mm, grind the tooth with the module up to 35 and with diameter up to 1250 mm.
---
NC lathe screw-cutting park of machine tools allows to process details with the length up to 12000 mm and diameter up to 2000 mm.

---
---
NC vertical boring and turning machine allows to process details with diameter up to 11,400 mm. NC circular grinding equipment allows grinding of rotation bodies with an accuracy of 0.001 mm, the roughness of Ra 0.8, maximum dimensions of work parts: diameter of 850 mm and length of 3000 mm. The range of grinded holes is up to 350 mm, maximum depth of grinded holes is 500 mm. Plain grinders allow to work details with the size of the width up to 1500 mm, height of 1000 mm and length of 4000 mm. Belt-saw equipment of the European company «MEBA» produces cutting off of blank parts with cross-section of 800 × 540 mm. NC high production gas cutting machines allow thermal cutting of sheets with thickness up to 300 mm.
---
---
The required heat treatment (cementation process, hardening, annealing) is carried out in its own heat treatment workshop, maximum dimensions of details: diameter of 2500 mm, height of 2500 mm. Semiautomatic welders of American company «Lincoln Electric» and Czech «Kϋhtreiber», welding tractors for automatic welding of line welds allow to conduct high-quality welding of various metal structures in the environment of CO2 and gas mixtures.
---
Different technologies for processing of polymer thermoplastic materials by casting method under pressure of irregular shape products up to 1.2 kg are opened up in the laboratory of composite materials. It is also possible to recycle thermosetting materials on the basis of phenol-formaldehyde and polyester resins by compression molding method.
---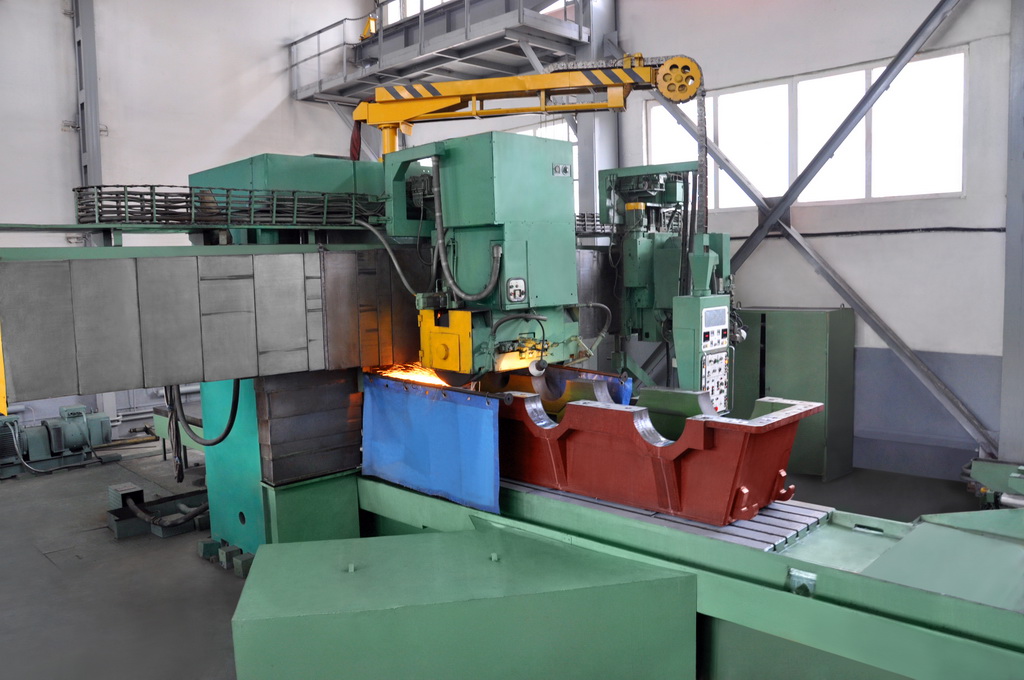 ---
Laminated wood structures with the use of Akzo Nobel glue systems are made on production line of «Ledinek» company. The maximum length of products is 35,000 mm. Carrier bar of rectangular cross-section; bend-glued arches, beams; chords, truss systems, rafter plates, girders; beams of variable cross-section are produced.
---